Legion Signature Hot Sauce & Dry Rubs Now Available!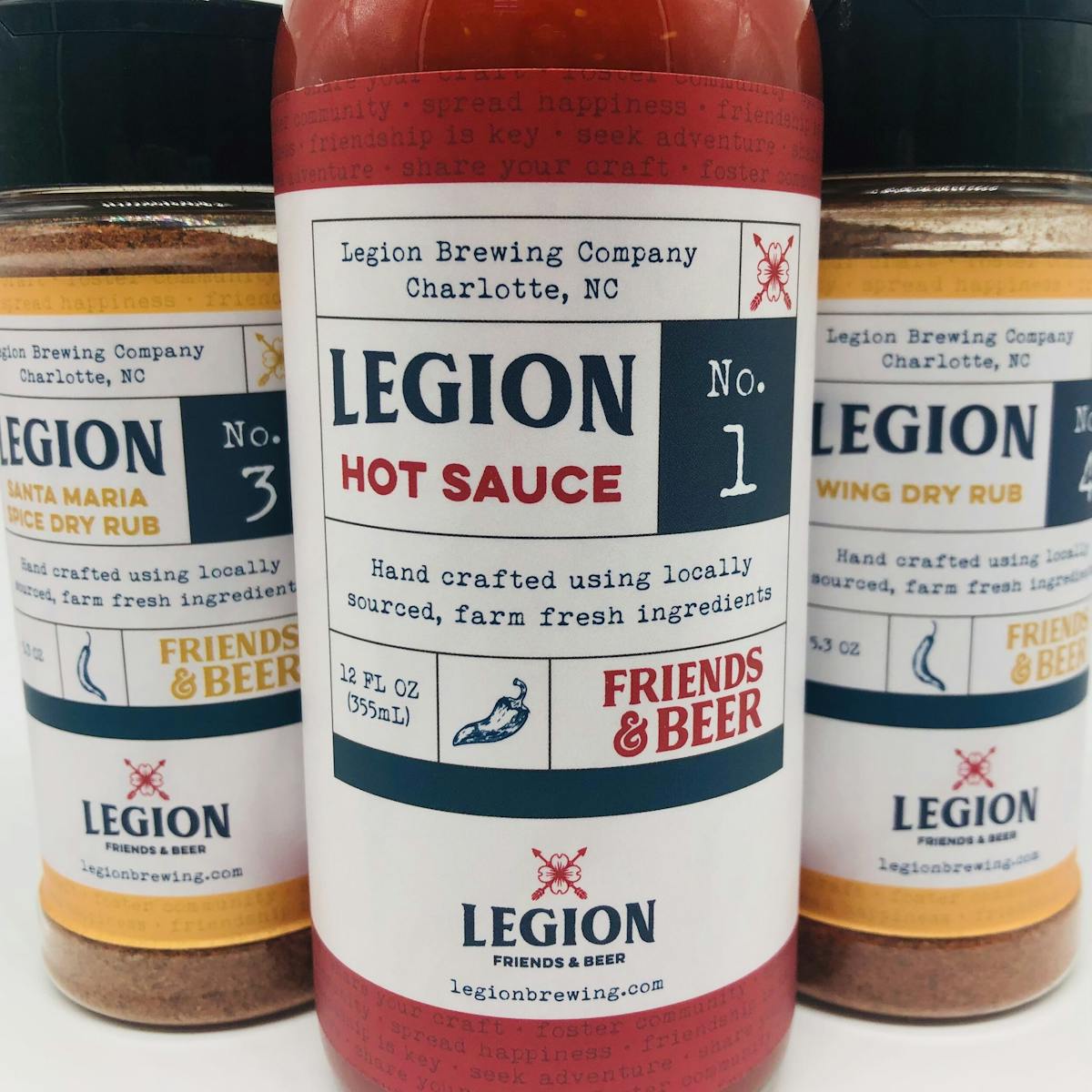 Spice up your kitchen with the release Legion Brewing's signature Hot Sauce and Dry Rubs. Legion Hot Sauce No 1, Santa Maria Spice Rub (Legion No. 3) and Wing Dry Rub (Legion No. 4) are the first installment in the brewery's new line of curated spices and sauces to be released to the public. Now available now for purchase in taprooms and online at legionbrewing.com
Legion Brewing is spicing things up with release of signature hot sauce and dry rubs
It's about to get hot up in here! Legion has officially released much anticipated food-related merchandise items to the public: House-made Hot Sauce & Dry Rubs.
Legion's specialty hot sauce was crafted using the same care and intentions as all Legion made menu items, by using locally sourced, farm fresh ingredients. Since opening its doors in 2015, Legion has spent hours not only perfecting the beer process but also its diverse food menu –raising the bar of pub food to the next level.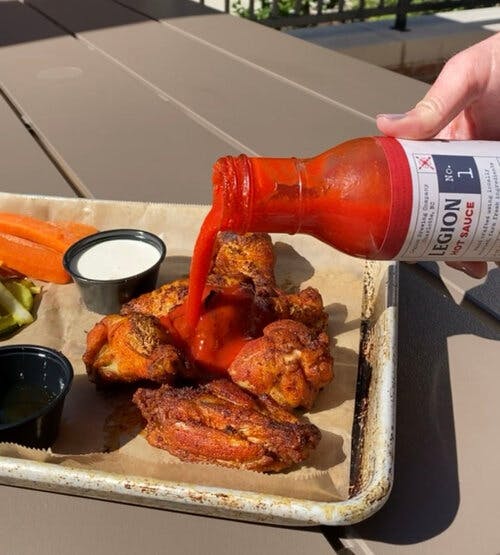 The idea of creating a signature Legion hot sauce surprisingly didn't come from Executive Chef Gene Briggs, but from his 18-year-old daughter and fellow line cook, Eve. "Eve and I have always bonded over food and cooking. She was into it from a young age and loved helping me out in the kitchen and at cooking classes," said Briggs. "She was the one that picked up fermenting at a pretty young age as a hobby and really got me into it too."
After two years of experimenting and almost 400 gallons of batches, the recipe was perfected and has quickly become a fan-favorite of Legion customer and staff. The handcrafted sauce has been used over the years in multiple recipes and Legion menu staples - found in all buffalo and BBQ style dishes and is used as a key component in the popular pimento cheese.
Fermented hot sauce is known for having a more complex tangy flavor that you can only get from the fermenting process. "It's like a recipe of time," Briggs explains. "The fermentation "cooks" up more flavor than you could ever get without it." The fermenting process is also known to help promote a digestive aid and produce positive probiotics.
The idea of the name Legion No. 1 comes from Legion's very own head brewer, Scott Griffin. "It truly shows how we collaborate as a team when it comes to all aspects of the business." says owner, Phil Buchy. "We had been all brainstorming names for a while, and Scott threw out Legion Hot Sauce No. 1 and we all just knew that was it. Using the number system is great because we can keep building on it, making it an entire collection of sauces and spices."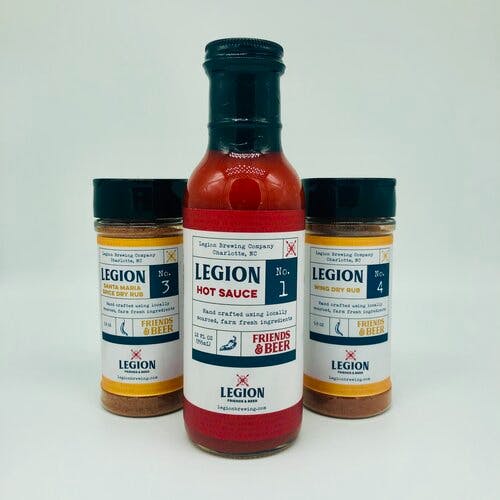 Alongside the Legion No. 1 Hot Sauce, two dry rubs have also been released - Santa Maria Spice Rub (Legion No.3) and Wing Dry Rub (Legion No. 4). Legion plans on launching a Sriracha (Legion No. 2) in the next coming months, with ideas already in motion to create even more flavors of sauces and rubs for loyal Legion customers to enjoy in the comfort of their own kitchens. "The hope is for our guests to want to collect them all, since they will all be so unique and special," says Briggs.
Legion Hot Sauce No. 1, Santa Maria Spice Rub (Legion No.3) and Wing Dry Rub (Legion No. 4) are all currently available for purchase in the taproom and online at legionbrewing.com